Issues around Sex Trafficking
Women in our society have always played a huge role in Native cultural success. Today is no different, but unfortunately our women, Native and Non-Native, have been targets of a heinous and violent crime: sex trafficking.
Every year, Native Hope hits the streets in an effort to raise awareness about this important issue.
Two major tourism events in South Dakota create a unique market for sex trafficking and exportation every year:
THE STURGIS MOTORCYCLE RALLY AND PHEASANT HUNTING SEASON

"Although most hunters and bikers in the area are well-behaved, there is a dark side to both those activities... Wherever you have a large gathering of men, you have a strong opportunity for prostitution and sex trafficking." - Former U.S. Attorney Brendan Johnson

The two major interstates that run through the state, I-90 and I-29, are "part of the 'Midwest Pipeline,' the superhighways used to deliver trafficking victims to cities across the country, " according to this fact sheet.

NATIVE HOPE IS DEDICATED TO ENDING SEX TRAFFICKING OF NATIVE AMERICANS
Our goal is to make everyone in South Dakota, including those visiting, aware, and vigilant.
Young Native American girls are at a higher risk for sex trafficking and domestic abuse than any other racial group in the United States.
The targeted age is 12-14 years old.
Although Native Americans make up only 13% of the state's population, 40% of sex trafficking victims in South Dakota are Native girls and women.
With the influx of hundreds of thousands of men during the Sturgis bike rally and continuing on through the fall hunting season, the "Old West" lure of beautiful South Dakota draws men in huge numbers.

Native Hope is determined to #ENDIT.


Join the Movement
Every October, we partner with The Red Sand Project to fill sidewalk cracks to raise awareness, connect, and take action. Red sand is a tangible and effective way to illustrate the massive sex trafficking problem. The Red Sand Project's goal is to fill sidewalk cracks in cities across the state with bright red sand. This eye catching approach helps spread awareness and shows our commitment to no longer let woman and children fall through the cracks.
Participate TODAY:
With your gift of $20 or more, we will send you a Red Sand kit, a Native Hope window decal, and information about Human Trafficking.
Use the red sand to fill a sidewalk crack
Take a photograph
Share on Facebook using #RedSandProject #NativeHope #NeverInSeason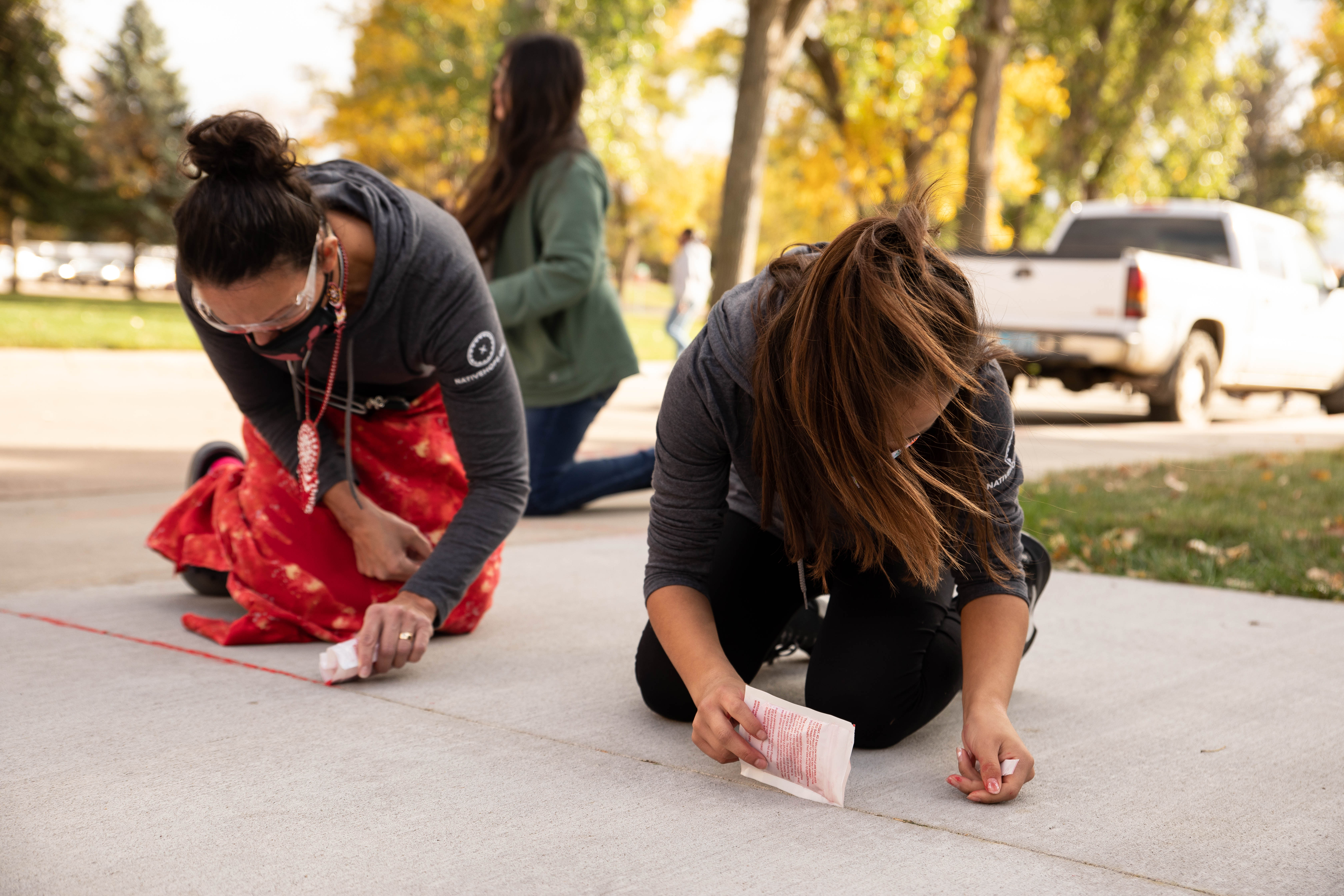 Signs of Human Trafficking
According to the U.S. Department of Homeland Security, recognizing key indicators of human trafficking is the first step in identifying victims and can help save a life. Here are some common signals to help recognize human trafficking:
Does the person appear disconnected from family, friends, community organizations, or houses of worship?
Has a child stopped attending school?
Has the person had a sudden or dramatic change in behavior?
Is a juvenile engaged in commercial sex acts?
Is the person disoriented or confused, or showing signs of mental or physical abuse?
Does the person have bruises in various stages of healing?
Is the person fearful, timid, or submissive?
Does the person show signs of having been denied food, water, sleep, or medical care?
Is the person often in the company of someone to whom he or she defers? Or someone who seems to be in control of the situation, e.g., where they go or who they talk to?
Does the person appear to be coached on what to say?
Is the person living in unsuitable conditions?
Does the person lack personal possessions and appear not to have a stable living situation?
Does the person have freedom of movement? Can the person freely leave where they live? Are there unreasonable security measures?


Not all indicators listed above are present in every human trafficking situation, and the presence or absence of any of the indicators is not necessarily proof of human trafficking.
Call the National Human Trafficking Hotline
1-888-373-7888
Report via text message
Text "HELP" or "INFO" to 233733